Neue Meister – Skulpturen
New Masters Paintings – Sculptures
Nouveaux-Maîtres – Sculptures
Dauer: 1,5 h Duration: 1.5 h Durée : 1,5 h
Preis: siehe Liste Price: see list Tarif : voir liste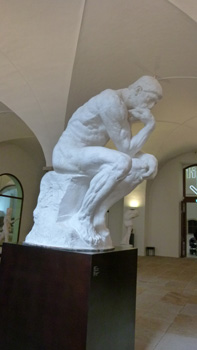 Von der Romantik bis zur Gegenwart – das ist die Spanne, in der sich die Präsentation von Gemälden und Skulpturen im Albertinum bewegt – ungemein breit gefächert, kontrovers und vielgestaltig präsentiert in dem geschichtsträchtigen und vor einigen Jahren so vorteilhaft umgebauten Gebäude an der Brühlschen Terrasse. Häufige Neuhängungen und Sonderausstellungen machen den Besuch des Albertinums immer wieder besonders spannend.

Im 2. Obergeschoss des Albertinums bewegen Sie sich im kunstgeschichtlichen Zeitraffer von den tief vergeistigten Werken Caspar David Friedrichs und des Kreises der Maler der Romantik zum Impressionismus und Expressionismus, letzterer in Dresden besonders akzentuiert durch die hier 1905 gegründete Künstlergruppe "Die Brücke". Otto Dix Triptychon "Der Krieg" mit seiner schier umwerfenden Ausdruckskraft wird auch Sie sicher tief beeindrucken, ehe Sie sich den weiteren Strömungen der Kunst des 20. Jh. bis zur Gegenwartskunst widmen, vertreten insbesondere durch den in Dresden geborenen Maler Gerhard Richter. From Romantic to contemporary art – this is the range of works of art presented in the Albertinum in an amazingly multifold and controversial exhibition in this century old building near Bruehl's Terrace which was recently refurbished and remodeled to its great advantage to house this magnificent collection of modern art. Frequent new hangings and temporary exhibitions make a visit to the Albertinum always exciting.

In the second floor of the Albertinum you can start an art historical time-lapse walk from the deeply spiritual landscapes by Caspar David Friedrich und other artists of romanticism to impressionist as well as expressionist artists particularly well represented with "Die Brücke", an art group founded in Dresden in 1905. You will surely be deeply impressed by Otto Dix' most poignant triptych "The war" before you wander on through the various 20th century art movements up to the contemporary period with Dresden born Gerhard Richter's works being special highlights. Du romantisme à nos jours – c'est la range d'œuvres de la peinture et sculpture exposés d'une manière très variée, controversée, diversifiée à l'Albertinum – un bâtiment historique à la Terrasse de Bruehl qui vient d'être remanié à son grand avantage. Comme souvent l'exposition est modifiée et des expositions temporaires sont organisées régulièrement il vaut toujours la peine de revisiter ce musée.

C'est en accéléré qu'on se bouge à travers l'histoire d'art au 2e étage d l'Albertinum. Débutant par les œuvres profondément spirituels de Caspar David Friedrich et d'autres peintres du romantisme on continue par l'impressionnisme et l'expressionnisme, ce-dernier surtout accentué ici par le groupe d'artistes «Die Brücke » fondé à Dresde en 1905. On ne peut qu'être ému face au triptyque « La Guerre » d'Otto Dix qui frappe par son réalisme impitoyable avant de se faire une idée des divers mouvements d'art du 20e siècle et de l'art contemporain surtout représenté par l'œuvre du peintre Gerhard Richter qui est né à Dresde.
In der Skulpturenhalle im Erdgeschoss setzt eine beachtliche Werkgruppe Auguste Rodins den fulminanten Auftakt zu einem Bogenschlag durch die verschiedenen Ansätze der plastischen Kunst im 20. und 21. Jahrhundert. Neben internationalen Bildhauern wie Henry Moore oder Per Kirkeby sind auch sächsische bzw. Dresdner Künstler wie Hermann Glöckner oder Wieland Förster vertreten. Gern zeige ich Ihnen auch mein Lieblingsstück unter den zeitgenössischen Werken, lassen Sie sich überraschen! In the sculptures hall in the ground floor the range of displays reaches from an amazing group of works by Auguste Rodin to various approaches of sculptural art in the 20th and 21st centuries. The exhibition is not limited to local and regional artists but also boasts of works by internationally renowned sculptors as Henry Moore or Per Kirkeby. I am looking forward to showing you my favorite piece among the contemporary sculptures! A la salle de sculptures au rez-de-chaussée de l'Albertinum, c'est un choix remarquable d'œuvres d'Auguste Rodin qui donne le coup d'envoi à un voyage de l'art sculptural et ses diverses approches au 20 et 21e siècle. Des œuvres d'artistes de renommé international comme Henry Moore ou Per Kirkeby y apparaissent ainsi que ceux des sculpteurs locaux comme Hermann Glöckner ou Fritz Förster. C'est avec plaisir que je vous montre aussi ma pièce favorite parmi les œuvres contemporaines!